Duke Lacrosse: Nifong May Have Subpoenaed Federally Protected Information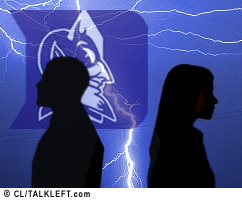 Update: I'm told there may be an exeption in the federal statute for grand jury subpoenas. Which might just leave the issues of whether Nifong should have obtained prior court approval for the subpoena and whether he needed individualized suspicion for each player whose records he subpoenaed.
********
Original Post:
It seems DA Mike Nifong has stepped in it again. Lawyers for 33 unindicted players Monday filed a motion to quash subpoenas he issued without a court order that requests home addresses and other personal information protected by federal privacy laws.
And back to the last Defense motion(pdf) to throw out the Court's initial order compelling the 46 players to provide photographs and other non-testimonial evidence, and evidence derived from them, such as the later photo identifications, I received a request to weigh in on the motion, and in particular, commenters nit-picking over phraseology, so here's my reaction.