AP Reports: Witness Saw Soldiers Beat Zarqawi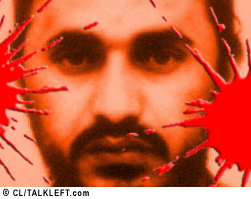 An Iraqi man raised fresh questions about the events surrounding the end of
Iraq's most-wanted militant. The man, who lived near the scene of the bombing, told AP Television News on Friday that he saw U.S. soldiers beating an injured man resembling al-Zarqawi until blood flowed from the victim's nose.
Does an anonymous report mean a beating happened? No, but the AP is not the National Enquirer and it doens't print bald accusations. Think about it. Pumped up soldiers on a fresh bombing scene realize they've captured the bronze alive (Osama being the gold and Saddam the silver) -- what do you think they did, read him his Miranda rights or give him a few little jubilant stomps?