U.S. Military Confirms al-Zarqawi 's Death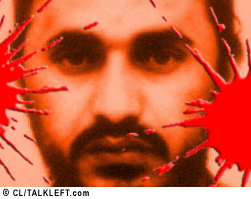 Update: Larisa at Raw Story has more details. David Corn weighs in on Bush and Zarqawi.
*******
Original Post:
The U.S. military has confirmed that it killed Abu-Musab al-Zarqawi in a military air strike.
Gen. George Casey, the US top commander in Iraq, said the hunt for the leader of Iraq's insurgents began two weeks ago and his body was identified through ....fingerprints, facial recognition as well as scars and tattoos.

US military spokesman Maj. Gen. William Caldwell showed a picture of al-Zarqawi's face after the air strike with his eyes closed and blood spots under him. He said a DNA test had been carried out on his body the results of which would be released in 48 hours.
The U.S. says al-Zarqawi's "spiritual advisor" led them to him. Here is video of the air strike and video of the Iraqi Prime Minister's announcement with comments by Rumsfeld and Tony Blair.