WSJ Backs Libby in Editorial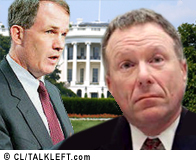 The Wall St. Journal (free link) assails Fitzgerald and backs Scooter Libby today.
There is all the difference in the world between seeking to respond to the substance of Mr. Wilson's charges, as Mr. Libby did, and taking revenge on him by blowing his wife's cover, which was the motive originally hypothesized by Bush critics for the Plame exposure. The more of Mr. Fitzgerald's case that becomes public, the more it looks like he has made the terrible mistake for a prosecutor of taking Joe Wilson's side in what was essentially a political fight.
Christy at Firedoglake responds. And check out the perfect photo for her post.