Duke Lacrosse Case Open Thread: Continued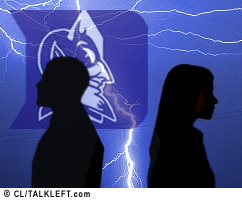 With over 300 comments on Friday's thread, it's time for a new one. This is for all topics related to the rape accusation against the three Duke Lacrosse players or the legal proceedings . What's in the news? I like Joanna Spilbor's take at Findlaw on the D.A. refusing the defense's attempt to provide evidence.
I can't help but believe that, were any of these defendants to assert that they had proof that a crime was indeed committed, this district attorney would be all ears. Suppose, for instance, that Seligmann or Evans were to turn on Finnerty, to try to save themselves - surely Nifong would happily hear them out. So how can the prosecutor justify, then, turning a blind eye to evidence of any of the accused's innocence?