Leopold Responds to Corallo's Denial of Fitzgerald - Luskin Meeting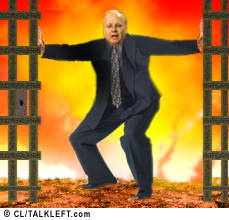 Last night, I spoke to Jason Leopold on the phone for a half hour or so. Here's what he had to say about Byron York's article stating that Karl Rove's spokesman Mark Corallo told him that Jason's article Saturday reporting sources told him Fitzgerald met with Luskin Friday and told him Rove has been indicted is false.
1. Jason says he spoke with Josh Gerstein of the New York Sun and Gerstein told him Corallo called both York and Gerstein, not the other way around. In other words, Corallo reached out to a few select reporters to debunk Jason's article. Corallo told Gerstein, as he told York, Jason's article reporting Rove has been indicted is a baseless lie. A New York Sun article today reports Carollo's comments to the paper.
2. Before Jason published his article, he left messages with both Corallo and Luskin offering an opportunity to respond. Neither returned his calls.
3. Jason spoke to Corallo twice on Saturday and twice on Sunday. The first time they spoke Saturday was after Jason's article was published. Corallo told Jason the article was lies and hung up. As I reported here, I e-mailed with Jason Saturday evening. Jason had provided me with two numbers each for Mark Corallo and Robert Luskin. After my non-conversation with Robert Luskin, I e-mailed Jason that I had also left a message for Corallo at his office, since no one answered at the other number he gave me.