Third Player Indicted in Duke Lacrosse Case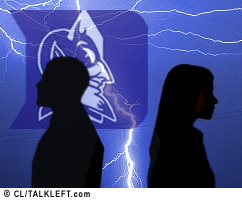 Duke Lacrosse team co-captain Dave Evans was indicted today for forcible rape, sexual assault and kidnapping by the Durham grand jury in the Duke alleged rape case.
Evans is represented by Joe Cheshire. I know Joe, and he is a great attorney.
Press Conference: An absolutely compelling denial. [Update: Video here.]
Live blogging:
Dave is here to surrender, he will bond out today.
David wants to make a statement. He won't take questions. Joe will then make a statement and take questions. All seniors on Duke lacrosse team are present. They are there to support the three charged players as they know no crime was committed on the evening in question at that house. They won't answer questions either. Evans' parents are there. Evans has been wrongly accused.