Team Libby Focuses Anew on Bill Harlow, Fleischer and Grossman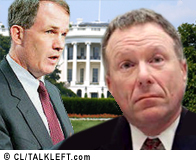 Team Libby has filed yet another memorandum (pdf) in support of his requests for documents pertaining to potential trial witnesses and others.
Libby begins by noting:
So far, the defense has identified by name the following current and former government officials as potential defense witnesses: (1) Richard Armitage; (2) Colin Powell; (3) Stephen Hadley; (4) Bill Harlow; (5) Karl Rove; (6) Joseph Wilson; and (7) Valerie Wilson. See Mot. at 15-16. All of these persons were discussed by Mr.
Libby during his grand jury testimony.