Libby May 5 Hearing Transcript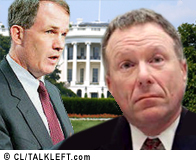 I have just received the May 5 hearing transcript in the Scooter Libby case (thanks to reporter Jason Leopold for sharing it with me.) I haven't yet read it, so you can have first takes.
Update: Christy of Firedoglake weighs in here and here . Empty Wheel includes her thoughts in her post about Cheney. Tom Maguire also has a detailed analysis.