Report: Aircraft Carriers Headed towards Iran, Possibly for Air Strike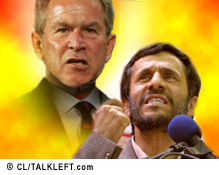 Larisa at Raw Story reports that two aircraft carriers, the USS Abraham Lincoln and the USS Enterprise are headed to the Middle East and Western Pacific. The USS Ronald Reagan is positioned in the Gulf.
Larisa reports the U.S. could be gearing up for air strikes in Iran, possibly in June.