1 Million Immigrant Vote Drive Begins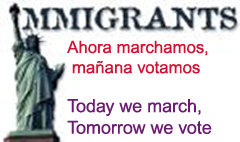 The "We Are America Alliance" is launching an immigrant voter registration drive today in New York, Chicago, Los Angeles and other cities. Its goal is to register 1 million immigrant voters for the November elections.
During the summer, immigrant advocates will encourage community organizations, union halls and churches across the country to become "immigrant action justice centers." Voter registration forms, citizenship information, letters addressed to politicians and phone numbers to call members of Congress will be available. The groups also plan to set up mobile information centers in high-traffic areas.