Bush Calls Iran Letter a 'Ploy'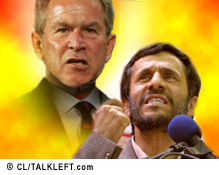 President Bush has decided to ignore the 18 page letter (available here pdf) from Iran President Mahmoud Ahmadinejad containing settlement options for the nuclear weapons issue, calling it "a ploy."
Iranian President Mahmoud Ahmadinejad sent an unexpected letter to President Bush on Monday, in what was seen as an overture for direct talks about Tehran's nuclear program, but U.S. officials dismissed the missive as an eleventh-hour ploy to forestall punitive action by the United Nations.

The letter is thought to be the first direct communication between the two countries' leaders since Iranian militants overthrew the shah and took Americans hostage at the U.S. Embassy in 1979. Diplomats hoped the letter signaled a new willingness on Iran's part to address the standoff over its uranium enrichment program, which the Islamic Republic says is for peaceful energy purposes, but which much of the West suspects is a cover for trying to build nuclear weapons.
The Council of Foreign Relations notes: