New Duke Rape Allegation: DA Says Not His Job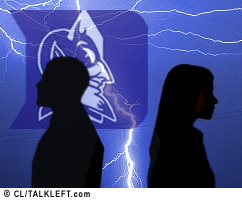 A female, lesbian Duke student alleges she was raped by a male student following a dorm pot-smoking, drinking party on the last day of classes. The male denies they had sex.
DA Mike Nifong says it's not his job to be involved unless police ask for his help.
"The Duke lacrosse case was very different from the way we normally get rape cases," Nifong said. "The District Attorney's Office is normally not contacted during the course of an investigation unless the law enforcement agency needs some special kind of assistance," such as obtaining a court order, he said. "That has not been the case in [the latest] investigation."
Duke police did get a search warrant and order for DNA testing. Nifong's explanation: