Karl Rove and a False Statements Charge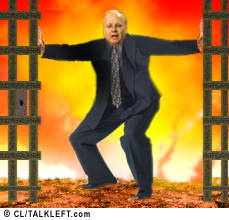 It seems inescapable to me that Karl Rove will be charged with making at least one false statement to federal officials under 18 U.S.C. Sec. 1001.
Rove was interviewed by the FBI in October, 2003. This was before Fitzgerald was appointed special counsel and before a grand jury was convened.
Rove did not tell the agents that that he had spoken with Robert Novak prior to his column being published on July 14, 2003, or that he had been one of the two "senior administration officials" cited in Novak's column as having confirmed Valerie Plame Wilson's identity and CIA employment.
But we know now that Rove spoke to Robert Novak on July 8. In that conversation, they discussed Wilson's wife's employment with the CIA. Novak's version is that Rove reportedly replied that he had heard this too.