Karl Rove Feels the Heat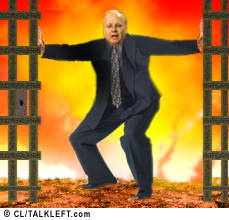 MSNBC's David Schuster will report on Keith Olbermann's show tonight that Karl Rove described his grand jury appearance yesterday as "hell" and is more worried he will be indicted. Crooks and Liars has the video of the Schuster report.
Raw Story has the transcript of Schuster's report.
Schuster reports the grand jury meets again tomorrow. Any bets charges will be filed against Rove or others?
Also check out Jason Leopold's Truthout article from March 28, reporting indictments would be coming in about one month and Prose of Sharon at Daily Kos on the whole target letter issue. You may also want to re-read my earlier post on Rove, Luskin, Novak and Fitz--explaining why Karl Rove has a lot to fear if he's charged with both perjury and making a false statement to investigators -- as opposed to simply a false statements charge.