Rumor: Fitz Met With Plame Grand Jury Today Re: Rove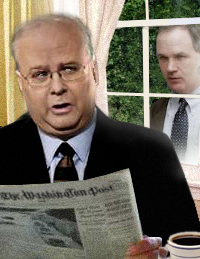 I'm hearing rumors that Fitz met with the Valerie Plame grand jury this morning. and Rove was the topic of discussion. Perhaps as Jason Leopold reported a few weeks ago, the paperwork for charges is being prepared. More on that here.
I'll be out at Markos' book signing and Drinking Liberally with the TL kid, so if there's any news in the meantime, please update in the comments.
Sidney Blumenthal also reports the investigation is turning towards Karl Rove.