Libby Judge Issues Orders on Journalists and Document Disclosure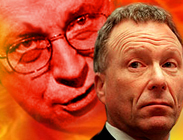 The Judge issued three orders in the Lewis "Scooter" Libby case today. The first two are no big deal. One set a schedule for subpoenaing jounalists, filing objections to the subpoenas and holding a hearing in April on the objections. No further court permission must be sought before either side issues the subpoenas.
The second order denied a request by Libby that Fitz not be allowed to continue filing ex parte affidavits with the court. (Ex parte means one-sided -- only the party who files it and the judge get to see it.)
The third order indicates to me that Libby is going to lose his request for being provided with the Presidential Daily Briefings, and even the documents he will receive will be for a much shorter time period than he had requested. I have uploaded the two page order here.