Iraq: The Bloodshed Continues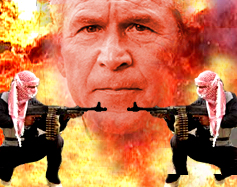 The Independent today has an article titled Iraq's death squads: On the brink of civil war :
Most of the corpses in Baghdad's mortuary show signs of torture and execution. ....Hundreds of Iraqis are being tortured to death or summarily executed every month in Baghdad alone by death squads working from the Ministry of the Interior, the United Nations' outgoing human rights chief in Iraq has revealed.
Here are today's incidents of violence in Iraq. Among them:
BAQUBA - Three gunmen opened fire on a crowd of teenage boys playing soccer in a drive-by shooting in the Iraqi town of Baquba on Sunday, killing two youngsters and wounding five in what a police official said was a sectarian attack.

BAGHDAD - Six people were killed and 38 wounded in a mortar attack on the southern Baghdad neighbourhood of Dora on Sunday, police and hospital sources said. It was not clear who fired the mortars.

BAGHDAD - Two U.S. soldiers were killed by a roadside bomb in western Baghdad on Sunday, the U.S. military said, bringing the number of U.S. personnel killed since the invasion in March 2003 to at least 2,290.