Libby, Cheney and Fitz, Part II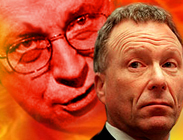 The New York Times, Washington Post and Associated Press are both reporting on Murray Waas' National Journal article disclosing that Patrick Fitzerald mentioned in a January 26 letter to Libby's lawyers that Libby told the grand jury he had been authorized by his superiors to disclose classified information to reporters.
The prosecutor, Patrick J. Fitzgerald, said in a letter to Mr. Libby's lawyers last month that Mr. Libby had testified before the grand jury that "he had contacts with reporters in which he disclosed the content of the National Intelligence Estimate ('NIE')," that discussed Iraq's nuclear weapons capability. "We also note that it is our understanding that Mr. Libby testified that he was authorized to disclose information about the NIE to the press by his superiors."
Fitz's full letter is available here. (pdf) An earlier letter from Fitz to Libby's lawyers regarding their discovery obligations is available here. Both letters were were filed by Libby's lawyers on January 31 as exhibits to his Motion to Compel Discovery of Rule 16 and Brady Material in the Possession of Other Agencies (pdf). Check out footnote 4 on pages 3-4.