Alito: Can We Send Him Back to New Jersey?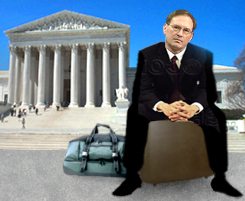 Republican Lincoln Chafee will vote against Alito but for cloture. Too bad. Lieberman has not yet decided on cloture, despite what CNN said. Call or fax his office now.
Jeffords will vote against cloture. Keep those calls and faxes to all who oppose Alito, particularly those in the Gang of 14, now. It's not over till it's over.
Let's send Judge Alito back to New Jersey. Numbers are below the fold, thanks to Reddhedd and Armando who are way out in front on this: