California High Court Denies Tookie Williams Latest Appeal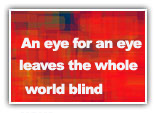 The California Supreme Court has denied Stanley "Tookie" Williams latest request for relief which was filed Saturday morning.
Without a grant of clemency by California Governor Arnold Schwarzenegger, he will be put to death late tonight (12:01 am Tuesday.)
Memo to Arnold: Clemency is about mercy. It is an act of grace. You have the opportunity to stop a needless killing. Tookie's execution will not bring the victims back. It will not heal. The welfare of the people of California is best served by the message clemency would send -- one of hope to the tens of thousands of disadvantaged young people your administration has professed to care so deeply about. A denial of clemency will send a message of despair.
You hold a human life in your hand. We've seen enough killing. Please choose life for Tookie.