Gov. Schwarzenegger: Spare Tookie's Life
Defense lawyers and prosecutors in Stanley Tookie Williams' case got 30 minutes to argue their case for and against clemency to Governor Arnold Schwarzenegger today. He is not expected to decide today.
Clemency is an act of grace and mercy, provided to the executive branch. It is a process by which the Governor can consider information not available to the court or jury at the time it determined guilt and sentence.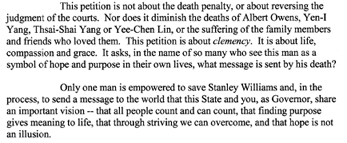 Newsweek today examines the Governor's dilemna. TalkLeft's position is here and here.