Schapelle Corby: Dealer Would Claim Pot if Immunized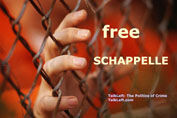 Time is running out for Schapelle Corby. She has until August 3 to produce a witness who can prove she was framed and that the 4 kilos of pot for which she was sentenced to 20 years in an Indonesian prison were planted.
A Sydney drug dealer is ready to testify that the drugs planted in her luggage were meant for him. But, he will only testify if Australian prosecutors give him immunity and promise he won't be extradited to Bali.