Fashion Ad Pulled of Models at 'Last Supper'
Can someone explain why this ad is so offensive it would be pulled in Milan?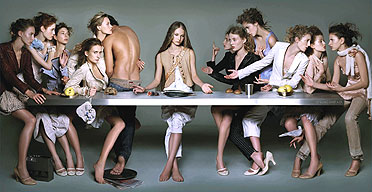 'A tribute to women' ... The Last Supper advertisement for Marithé and François Girbaud
The Guardian reports:
The poster, by French fashion house Marithé and François Gribaud, is a version of Leonardo da Vinci's work with an almost all-female cast. Angelic-looking women clad in the company's "casual chic" pose around a long table as Christ and his apostles. One man, John the Apostle, sits on a woman's lap, his torso bare and jeans riding low.

The poster has been plastered on walls, billboards and magazines in New York and Paris for weeks. In Milan, where Leonardo's fresco is preserved and the influence of the Vatican is never far away, city authorities have banned it.
It's a play off the best-selling book, the DaVinci Code, "which suggests that the figure of John in Da Vinci's masterpiece is actually Mary Magdalen in disguise."