Detainee Died After Being Hung From the Wrists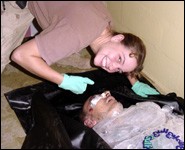 Sabrina Harman standing over the corpse of detainee Manadel al-Jamadi. She is not one of the navy commandos charged with abusing him. Her court-martials trial on other charges is pending.
Let's not get so myopic over Jeff Gannon that we lose sight of the forest....The Associated Press has obtained documents showing that a ghost detainee (one whom the U.S. hid from the Red Cross and didn't put on it lists) died after being hung from the wrists - after interrogation by the CIA. They call it a "Palestinean hanging."