No happy Thanksgiving for Tom DeLay. The jury found him guilty of money laundering and conspiracy to commit money laundering.
The penalty on one count is 2 to 20 and from 5 to 99 years on the other. He could also receive probation. Texas has jury sentencing, but DeLay previously opted for the judge to sentence him.
His attorney, Dick DeGuerin, says the verdict won't withstand appellate scrutiny:
Mr. DeGuerin said Mr. DeLay would try to convince an appeals court the money-laundering statute should never had been applied to the money swap — because the original donations were legal and also because the donations to the state candidates came out of a different account than the one in which the corporate donations were deposited. "It will never stand," Mr. DeGuerin said.
(7 comments) Permalink :: Comments
Update: The jury has now asked for DeLay's interviews with reporters. The judge has told the lawyers to be prepared to work late tonight.
After prosecutors played the tape of the Wallace interview during the trial, DeLay said it told his side of the story so well that he didn't need to testify. In the Statesman interview, DeLay said, "I could have stopped it, but why would I?" He added that he considered the money swap a legal transaction that both political parties had done in the past.
The Statesman says it's back to what DeLay know and when did he know it. Have they rejected his defense that the money swap was legal? [More...]
(2 comments, 500 words in story) There's More :: Permalink :: Comments
The jury in Tom DeLay's money laundering trial had a lot of questions for the judge today. The judge isn't happy. He thinks they are focusing on things outside the trial.
"I'm afraid you may be getting away from the decisions you must make," Priest told the jurors.
What kind of answer is that? Team DeLay views the questions as a good sign:
"They are zeroing in right on the weaknesses of the state's case," said Dick DeGuerin, DeLay's lead attorney.
[More...]
(160 words in story) There's More :: Permalink :: Comments
After 8 hours of questioning 91 potential jurors, jury selection was completed in the money laundering trial of former House Speaker Tom DeLay. There are six women and six men.
Nobody wanted to be seen as a Republican. The prosecutor said:
Mr. DeLay is a Republican. I'm a Democrat. This case has nothing to do with that. All that matters is, 'Can you put political feelings you may have (aside) and give both sides a fair trial?'"
DeLay's attorney, Dick DeGuerin, said:
"It's not about whether you like Tom DeLay. I'm a Democrat and I like him," DeGuerin told potential jurors. "That's all we want: a fair jury and a fair trial."
[More...]
(8 comments, 797 words in story) There's More :: Permalink :: Comments
It only took five years to bring Tom DeLay to trial in Texas on state charges of money laundering and conspiracy. Jury selection begins today in Austin. In August, DeLay lost his bid to have the trial moved from the predominantly Democratic city.
From the Austin-American Statesman:
DeLay and two associates — Jim Ellis and John Colyandro — are accused by prosecutors of taking $190,000 in corporate money collected by a state political action committee DeLay started and illegally funneling it through the Republican National Committee in Washington to help elect

GOP

state legislative candidates in 2002. Under Texas law, corporate money cannot be directly used for political campaigns.
DeLay has one of the best attorneys in the country, Dick DeGuerin of Houston, who also is a good friend of mine. Dick says there's no crime and the charges are the result of a political witchhunt by former Travis County DA Ronnie Earle. [More..]
(13 comments, 834 words in story) There's More :: Permalink :: Comments
by TChris
Tom DeLay may not be off the hook on a charge that he conspired to violate the Texas election code. The charge was dismissed last year, leaving DeLay to face a money laundering charge. An intermediate appellate court affirmed the dismissal, but the Texas Court of Criminal Appeals has agreed to review that decision.
[B]y accepting the case for review, the high court likely pushed any trial in DeLay's case off until next year. No date for oral arguments has been set.
by TChris
In the judgment of his former local supporters,Tom DeLay has made a mess of things.
[Republicans] are in such disarray now that the hope of backing a single write-in candidate has essentially vanished. There are three declared write-ins, and one top state Republican, Land Commissioner Jerry Patterson, is urging Republicans to consider voting for the Libertarian candidate, who does have a spot on the ballot.

Citing the divisions and the $3 million that Democratic nominee Nick Lampson has raised, two leading political analysts -- Charlie Cook and Larry Sabato -- changed their ratings of the seat this week to "leans Democrat." It had been "leans Republican" only a few days ago.
Nick Lampson has a chance to clean up DeLay's mess. Reading the linked article about none-too-happy-with-DeLay Republicans, you might particularly enjoy the timeline entitled "The Rise and Fall of Tom DeLay."
(2 comments) Permalink :: Comments
by TChris
For awhile, Republicans speculated that the indicted Tom DeLay might campaign for his old seat, given court decisions that require his name, as the primary winner, to remain on the ballot. DeLay dashed the hopes of his supporters -- yes, they inexplicably exist -- by reaffirming his intent not to campaign. DeLay no doubt wants to spend his campaign money on his legal fees. What good is another term in Congress, after all, if he has to serve it from a jail cell?
A couple of potential Republican candidates are considering write-in campaigns, while other Republicans are searching for a way to manipulate DeLay's name off the ballot. One idea: appoint the indicted DeLay to a nice government job.
(8 comments, 236 words in story) There's More :: Permalink :: Comments
by TChris
Barring a successful appeal, Tom DeLay's name must stay on the ballot as the GOP candidate for the congressional seat he abandoned. It's widely assumed that DeLay, despite the distraction of a pending indictment, will campaign for the seat if that decision isn't overturned, but Roll Call (by way of Raw Story) reports that DeLay has been spending his campaign funds on lawyers, leaving him with little cash on hand to mount a campaign.
DeLay has only $641,000 in his campaign account, compared to $2.2 million available to the Democratic candidate, Nick Lampson. And DeLay's need for money to solve his legal woes won't end soon.
With legal bills still mounting -- DeLay faces a local trial later this year on campaign finance charges and the probe of ex-lobbyist Jack Abramoff continues -- he was originally expected to use all his leftover funds to pay a legal team that now includes lawyers from nine different firms.
(7 comments, 268 words in story) There's More :: Permalink :: Comments
Tom DeLay may have won the primary Tuesday, but his main battle is still in the Texas criminal courts:
Prosecutors pursuing conspiracy and money laundering charges against Rep. Tom DeLay on Wednesday sought campaign finance documents from a decade-old congressional campaign in East Texas. The subpoena requests documents that name contributions from businessman Peter F. Cloeren, who pleaded guilty to directing illegal corporate money into Republican Brian Babin's 1996 campaign for Congress.

In an affidavit signed in 1998, Cloeren said DeLay urged him to evade campaign finance laws and funnel more money than legally allowed into the Babin campaign. DeLay denied the accusation.
One thing DeLay must be coming to grips with is that when the government decides to bring its awesome power down on you, no matter how much money you have to fund your defense, they always have the edge. If anyone can beat the Government, I believe it's Dick DeGuerin, but at some point, all those other politicians and businessmen who did business with him and his staffers are going to "tell the government's truth" if the alternative is an indictment or a longer jail sentence for themselves.
(6 comments) Permalink :: Comments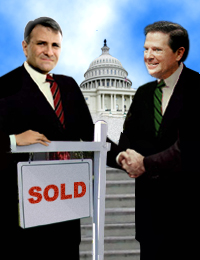 Reuters reports that Tom DeLay is trailing in his Texas race for re-election to the House.
Embattled Republican Tom DeLay trails a Democratic challenger for his seat in the U.S. House of Representatives and is viewed favorably by only 28 percent of people questioned in a poll of his Houston area district, the Houston Chronicle said in its online edition on Saturday. The survey of 560 registered voters conducted Tuesday through Thursday found 30 percent favored former U.S. Rep. Nick Lampson, a Democrat, compared with 22 percent for DeLay, who has represented the district for 22 years.
The Houston Chronicle reports on a poll finding that only half the people who voted for him in 2004 would do so again in 2006.
Overall, about a third blame DeLay's troubles on his own behavior, and a fourth blame "a culture of corruption in Washington."
One more indictment -- such as over the Abramoff embroglio-- and I say he's toast. [graphic created exclusively for TalkLeft by CL.)
(6 comments) Permalink :: Comments