Tag: Wikileaks (page 2)
The FBI explains the 40 search warrants it executed yesterday pertaining to "Anonymous", a group of hackers that engaged in Denial of Service (DDOS)attacks on MasterCard, Visa, Paypal and Amazon as retaliation for cutting off Wikileaks.
No one was arrested in the U.S. but the offenses, if charged, carry up to ten years in prison. The FBI says:
The FBI also is reminding the public that facilitating or conducting a DDoS attack is illegal, punishable by up to 10 years in prison, as well as exposing participants to significant civil liability.
The five people arrested in the U.K. after warrants were executed there have been released on bail. Anonymous issued this letter in response to the U.K. arrests, calling them a "Declaration of War." [More...]
(23 comments, 302 words in story) There's More :: Permalink :: Comments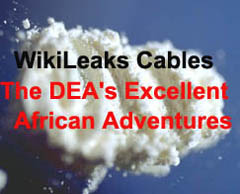 The New York Times examines the Wikileaks cables and the DEA. What it finds: the D.E.A. has been expanding its global reach. It now has 87 offices in 63 countries. One of the things foreign governments love about the agency: its wiretapping capability.
The DEA has emerged from the shadow of the FBI and become much more than a drug agency. Its intelligence capabilities are in great demand, world-wide, but not always for the right reasons. This detailed article on the leaked Wikileaks cables concerning the DEA and war on drugs begins with Central and South America, where some governments want access to its technologies to go after political opponents. [More...]
(9 comments, 859 words in story) There's More :: Permalink :: Comments
This week, the New York Times reported the Justice Department was considering conspiracy charges against Wikileaks founder Julian Assange, rather than espionage charges.
On Meet the Press this morning, Biden said he can't talk about the grand jury investigation. In the next sentence, he said:
If he conspired to get these classified documents with a member of the U.S. Military, that's fundamentally different than if somebody drops on your lap here.. "Here is-- classified material."
Could he have said any more clearly the grand jury is focused on a charge Assange conspired with Manning?
(17 comments) Permalink :: Comments
Glenn Greenwald has an excellent expose on the cruel and inhumane conditions of Pvt. Bradley Manning's pretrial detention. Manning is accused of leaking the State Department cables to Wikileaks. He's being held in solitary confinement at the military brig at Quantico.
For 23 out of 24 hours every day -- for seven straight months and counting -- he sits completely alone in his cell. Even inside his cell, his activities are heavily restricted; he's barred even from exercising and is under constant surveillance to enforce those restrictions. For reasons that appear completely punitive, he's being denied many of the most basic attributes of civilized imprisonment, including even a pillow or sheets for his bed (he is not and never has been on suicide watch).
Here's the website for the Marine Corps Base Quantico which includes the Brig. Manning is thought to be in Special Quarters 2. [More...]
(31 comments, 1898 words in story) There's More :: Permalink :: Comments
A year ago I wrote about the DEA's expensive "African vacation" during which it sent informants and agents to Ghana as part of an elaborate sting operation to intercept cocaine on its way to Europe. It ended up with no cocaine or money, but flew three African men back to the U.S. to face criminal charges. (A year later, the court's docket in U.S. v. Oumar Issa, et. al., SDNY, shows the three are still in custody and the case hasn't even gotten past the discovery phase to the filing of pre-trial motions.)
I'm sure the men's lawyers (some of whom are court-appointed since some of those charged are indigent) will be very interested in Wikileaks' release of embarrassing cables today pertaining to cocaine enforcement operations in Ghana, Mali and elsewhere in West Africa. One set of cables pertains to a longstanding and expensive UK operation called Westbridge, in which the UK teamed up with the Ghana Government. Cables by American diplomats claim corruption in Ghana has ruined the operation. [More...]
(5 comments, 2232 words in story) There's More :: Permalink :: Comments
Via CBS News, Mark Stephens, attorney for Wikileaks' Julian Assange, appears on David Frost's al Jazeera TV show and says they've received word a grand jury has been empaneled in Alexandria, VA to investigate criminal charges.
"We have heard from the Swedish authorities there has been a secretly empaneled grand jury in Alexandria...just over the river from Washington DC, next to the Pentagon," Stephens said. "They are currently investigating this, and indeed the Swedes we understand have said that if he comes to Sweden, they will defer their interest in him to the Americans. Now that shows some level of collusion and embarrassment, so it does seem to me what we have here is nothing more than holding charges...so ultimately they can get their mitts on him."
(10 comments) Permalink :: Comments
Julian Assange's lawyer has told ABC News that a U.S. indictment for spying is imminent. (I'm not linking to ABC News because their news articles play audio when you click on them and I hate that.) His attorney, Jennifer Robinson, says:
Our position of course is that we don't believe it applies to Mr. Assange and that in any event he's entitled to First Amendment protection as publisher of WikiLeaks, and any prosecution under the Espionage Act would in my view be unconstitutional and puts at risk all media organizations in the U.S."
[More...]
(46 comments, 172 words in story) There's More :: Permalink :: Comments
The UK has received an arrest warrant for Julian Assange of Wikileaks. Extradition is being sought by Sweden.
The warrant is being processed by the Serious Organised Crime Agency and will be sent to the Metropolitan Police as he is thought to be in the London area. Mr Assange is wanted in Sweden to face sex allegations which he denies.
The Swiss have closed his bank account, but no criminal charges will result and he will get the money.
(2 comments) Permalink :: Comments
The Telegraph and The Daily Mail say the prime suspect in the latest Wikileaks document disclsoures, including the state department cables leaked today is Bradley Manning, a 23 year old U.S. soldier from Oklahoma who is now in a jail cell at Quantico, VA. Manning spent part of his childhood in the UK, in Wales.
Bradley Manning, 23, enlisted in the US Army in 2007 and became an intelligence analyst in Iraq, sifting through classified information at Forward Operating Base Hammer, 40 miles east of Baghdad....After arriving in Iraq the young soldier, who is gay, complained of feeling socially "isolated" in the military.
His friends describe him as a loner and computer geek. [More...]
(46 comments, 378 words in story) There's More :: Permalink :: Comments
The anticipated Wikileaks document dump has arrived. It includes 250,000 American diplomatic cables, most from the past three years.
The cables, a huge sampling of the daily traffic between the State Department and some 270 embassies and consulates, amount to a secret chronicle of the United States' relations with the world in an age of war and terrorism. ...The anticipated disclosure of the cables is already sending shudders through the diplomatic establishment, and could conceivably strain relations with some countries, influencing international affairs in ways that are impossible to predict.

Secretary of State Hillary Rodham Clinton and American ambassadors around the world have been contacting foreign officials in recent days to alert them to the expected disclosures. A statement from the White House on Sunday said: "We condemn in the strongest terms the unauthorized disclosure of classified documents and sensitive national security information." Among their revelations, to be detailed in The Times in coming days.
Some of what's covered:[More...]
(22 comments, 748 words in story) There's More :: Permalink :: Comments
The latest Wikileaks document release, reported to comprise 3 million documents, may be hours away from release.
The classified files to be released reportedly cover correspondence between US diplomatic missions abroad and the state department in Washington and would possibly reveal "unflattering" views that American officials often held about close EU allies and countries like Russia, China and Saudi Arabia.

Governments around the world on Saturday braced for the publication of potentially embarrassing diplomatic cables, as Washington raced to contain the fallout.
This release will be seven times the size of the October release of 400,000 war documents.
(4 comments) Permalink :: Comments
Wikileaks has published 400,000 pages of military documents from 2004 to 2009 revealing details of murder and torture. It's the largest leak of military documents in history.
"There are over 300 recorded reports of coalition forces committing torture and abuse of detainees across 284 reports and over 1,000 cases of Iraqi security forces committing similar crimes," WikiLeaks said in a press release.

"There are numerous cases of what appear to be clear war crimes by US forces, such as the deliberate killing of persons trying to surrender," WikiLeaks said.
Via the LA Times: [More...]
(18 comments, 192 words in story) There's More :: Permalink :: Comments
Update: Rape warrant canceled.
An arrest warrant has been issued in Sweden for Wikileaks founder Julian Assange. He is being sought for questioning on allegations of rape and molestation in two cases.
Assange says the allegations are the beginning of a "dirty tricks" cammpaign intended as retribution for his publishing the Pentagon Afghan war files on the Wikileaks website.
Assange is Australian and doesn't have a permanent address. He was in Sweden last week on Wikileaks business.
Assange, an Australian citizen, was in Sweden last week to apply for a publishing certificate to make sure the website, which has servers in Sweden, can take full advantage of Swedish laws protecting whistleblowers. He also gave a talk about his work and defended the decision by Wikileaks to publish the Afghan war logs.
Assange's current whereabouts are unknown, but some say he is still in Sweden. On the allegations [More....]:
(21 comments, 233 words in story) There's More :: Permalink :: Comments