Tag: Oscar Pistorius (page 2)
Last week, Oscar Pistorius' defense team spent a lot of time trying to get witnesses to acknowledge that they might have confused the sound of gunshots with the sound of Oscar bashing in the door to to the toilet with a cricket bat. Here's an interesting You Tube video of an experiment comparing the two sounds. Conclusion: If you weren't able to listen to both sounds for comparison purposes, you could easily mistake the sound of the cricket bat for the sound of a gunshot.
Here's a recap of yesterday's testimony. In a nutshell, Reeva was shot three times, in the hip, the arm and the head. She would have died within a few breaths of the gunshot to the head.
(56 comments, 518 words in story) There's More :: Permalink :: Comments
I've been watching the Oscar Pistorius trial live on the internet since it began Monday. They are still on the first witness.
The format of the trial is different than in the U.S. In South Africa, the defendant has the right to make a statement addressing the charges at the beginning, before the state gives an opening argument. Oscar's lawyer read a detailed statement, in the first person as if Oscar was speaking, refuting the charges paragraph by paragraph. He went through the facts of what happened, and it was much like what the affidavit from the bail hearing. (The only difference I could discern was that he said Oscar went to the balcony to bring two fans back. In the bail application, they said there was one fan.) [More...]
(74 comments, 1688 words in story) There's More :: Permalink :: Comments
Update: The Indictment and 107 person witness list is here, courtesy of journalist Barry Batemen of Eyewitness News. The first charge is the unlawful and intentional killing of a person. (On page 2 the indictment says it doesn't matter if the person killed not the person one intends to kill. In other words, the state doesn't have to prove he intended to kill Reeva Steenkamp, only that he intended to kill someone.) The second charge is illegal possession of 38 rounds of ammunition at his home. [More...]
(36 comments, 779 words in story) There's More :: Permalink :: Comments
This may have been the most long and drawn out bail decision ever. It went one way, then the other, for over an hour. It wasn't until the last 2 minutes you knew Oscar Pistorius was getting bail.
Here are the main points expressed by the judge in making his findings and rulings: [More...]
(29 comments, 787 words in story) There's More :: Permalink :: Comments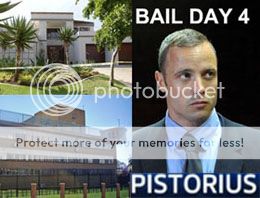 Court has begun in the final bail hearing for Oscar Pistorius. The prosecutor is finishing his closing argument. He complains Oscar submitted an affidavit instead of testifying. Magistrate Desmond Nair asks: "Is he not permitted to bring the application by affidavit?" Nel says: "Nobody can force him to, he makes an election." (The correct answer is "yes".) [More...]
(7 comments, 2462 words in story) There's More :: Permalink :: Comments
At 11:00 a.m. SAT (2:00 am MT), defense lawyer Barry Roux and prosecutor Gerrie Nel will make their closing arguments as to why Oscar Pistorius should be allowed or refused bail.
Chief Magistrate Judge Desmond Nair will then make the decision. The big questions:
Will Magistrate Nair reconsider his prior ruling on premeditation and reduce the charge to a class five offense from a class six, which has a lesser standard to meet for bail?
If he stays with a class six offense, will he find exceptional circumstances for bail?
If he reduces the charge to a class five offense, will he find the ends of justice require bail?
I predict Oscar Pistorius will be granted bail and the judge will find Oscar is not a flight risk or a significant danger to himself or the community. I do not think he'll conclude, as many have since Investigator Hilton Botha's confused and misleading testimony yesterday, that the prosecution's case is DOA. Nor do I think the revelation of reinstated attempted murder charges against Botha will have any impact on his bail ruling, although it may complicate things. [More...]
(37 comments, 1362 words in story) There's More :: Permalink :: Comments
In the "you can't make this stuff up" department: Hilton Botha, the lead investigator in the Oscar Pistorius murder case who testified at yesterday's bail hearing, is himself charged with 7 counts of attempted murder resulting from a drunken spree with other officers. They are charged with opening fire on a mini-bus filled with passengers. They allegedly were drunk and in a state vehicle.
Botha and his co-defendant officers have a hearing in May. Charges were filed in 2011, dropped, and then reinstated, of all days, yesterday. (Update: Police management is now saying the charges were reinstated days before Reeva Steenkamp's killing and Oscar's arrest.)
A police spokesman today confirmed the charges and said Botha will remain on Oscar's case. [More...]
(1 comment, 347 words in story) There's More :: Permalink :: Comments
(For what happened earlier on Day Two of Oscar Pistorius' bail hearing, see here. What happened on Day One is here.)
The hearing resumed after lunch around 1:35 pm, SAT, with continued cross examination of Investigator Hilton Botha by Defense Attorney Roux. Court adjourned around 2:40 pm. The Magistrate granted a request by the defense that Oscar continue to be held at the Brooklyn Police station instead of being moved to a prison.
Court will reconvene at 11:00 a.m. tomorrow to hear legal arguments. The Magistrate may render his decision after arguments.
See below for what's likely to happen tomorrow, followed by what happened in the final hour of today's hearing. [More....]
(16 comments, 1729 words in story) There's More :: Permalink :: Comments
The bail hearing for Oscar Pistorius resumes at 9:00 am South Africa Time. (Midnight, MT). (Updates will be at the top instead of the bottom.) The journalists I am following today on Twitter who are the source of my updates: @BarryBateman (Eyewitness News);@BBCAndrewH; David Smith (The Guardian); @AlexCrawford (Sky News); @KarenMaughan (legal journalist).
Final Update 12:45 pm SAT: Court breaks for lunch unitl 1:30 pm. "We're in terrible trouble" a junior prosecution official says when leaving court. [More...]
(37 comments, 2125 words in story) There's More :: Permalink :: Comments
Update: The bail hearing is continued until tomorrow at 9:00 am (South Africa time). It will be live-streamed to an overflow courtroom for reporters. Prosecutors will provide the defense additional discovery. Both sides want to present more evidence.
Details: After the prosecution finished its argument and the parties debated premeditation, the judge stated he cannot rule out premediation and the bail hearing would proceed as a class six offense of premeditated murder, making the test for bail a showing of exceptional circumstances. But he also said he may change his mind after all the evidence is in and reduce it to a class five offense, which requires a lesser showing that bail is in the interests of justice.
The defense then presented its case. [More...]
(66 comments, 1001 words in story) There's More :: Permalink :: Comments
Update: New thread with reports from hearing here.)
Oscar Pistorius will have a bail hearing Tuesday (shortly after midnight tonight ET. ) The controlling law is the Criminal Procedure Act (CPA).
Murder can be a class 5 or 6 offense. Premeditated Murder is a Class 6 offense.
Where an accused is been charged with an "extremely serious" schedule six offence, he may be released only if he produces evidence to satisfy the court that exceptional circumstances exist which, in the interests of justice, permit his release
His lawyers will argue he should be charged with the class 5 murder offense, which would make bail easier to obtain. [More....]
(8 comments, 429 words in story) There's More :: Permalink :: Comments