Tag: Michael Brown (page 2)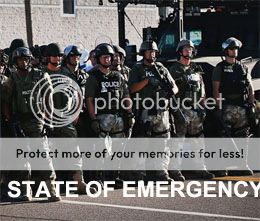 The Governor of Missouri has declared a state of emergency in Ferguson. A curfew is in effect until further notice.
The police brought this on themselves. They have bungled every opportunity to resolve public frustration. They are a walking public relations disaster, choosing the wrong path at every turn.
Today, the Justice Department said they asked the police not to release the security camera video from the alleged theft at Ferguson's Wine and Market. [More...]
(126 comments, 249 words in story) There's More :: Permalink :: Comments
Ferguson police have changed their story again about whether officer Darren Wilson stopped Michael Brown after suspecting him on robbing cigars from a convenience store. At a press conference today, the police chief said Wilson did not stop Brown because he was a robbery suspect but because he was blocking the streets.
The Ferguson police officer who shot Michael Brown didn't stop him because he was suspected in a recent robbery, but because he was "walking down the middle of the street blocking traffic," the city's police chief said Friday.

Ferguson Police Chief Thomas Jackson told reporters the alleged "robbery does not relate to the initial contact between the officer and Michael Brown."
After the conference, he told the St Louis Dispatch the officer might have stopped Brown because he saw cigars in his hand and knew there was a robbery.
[More...]
(38 comments, 414 words in story) There's More :: Permalink :: Comments
Ferguson police today released the name of the officer who killed Michael Brown (Darren Wilson, who had been on the force for 6 years with no disciplinary history) and 16 pages of heavily redacted reports (available here) related to Michael Brown.
None of the released reports describe the shooting. Instead, they describe an alleged "strong arm" robbery at a convenience store that occurred shortly before noon on the day Brown was shot and killed. Police also released video images from a surveillance camera inside the store showing a person they say is Brown "towering" over a much shorter person (the store clerk or manager). Brown, according to the report, is 18 years old, 6'4" and 292 pounds. [More...]
(98 comments, 1033 words in story) There's More :: Permalink :: Comments