Happy Halloween and Open Thread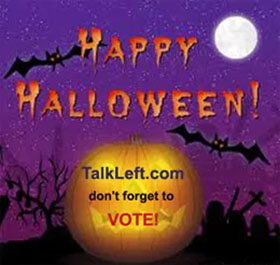 Happy Halloween to all of you who just love, love, love this holiday. If you costumed up as a real person or character, please let us know who you chose.
For any of you who went trick or treating, let us know if you got your favorite candy and what it is. And if you put a "no candy here" sign on your front door, let us know that, too.
I think it's good to put a little merriment in the air for one night -- we could all use a night's relief from the horrible suffering, cruelty and death we're watching and reading about 24/7 in the Middle East. May the war be over soon.
This is an open thread, all topics welcome.