Did Rudy Strike Out With Georgia Grand Jury?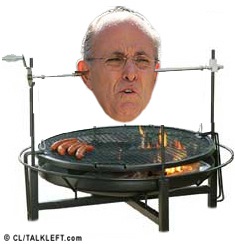 The New York Times reports that Robert Costello, one of Rudy Giuliani's attorneys, has told the media that he has been informed that Giuliani is a target (not a witness or a subject) of the grand jury investigation into Trump and his advisors and lawyers attempts to overturn the Georgia election results in 2016.
One of Mr. Giuliani's lawyers, Robert Costello, said in an interview that he was notified on Monday that his client was a target. Being so identified does not guarantee that a person will be indicted; rather, it usually means that prosecutors believe an indictment is possible, based on evidence they have seen up to that point.
How does Rudy get out of an indictment? He can testify (and risk a perjuryor obstruction of justice charge if they have evidence he lied to the grand jury). It worked for Karl Rove (who had a great lawyer in Robert Luskin). Rove testified four times before the grand jury investigating the leak of the identity of CIA Agent Valerie Plame. [More...]