Monday Open Thread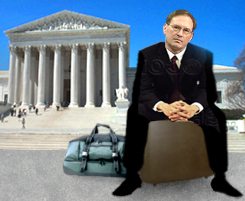 It's too bad we can't send him back to New Jersey.
I can't think of any Supreme Court Justice that TalkLeft argued against more at the time of his nomination. All to no avail. And now, we pay the price. And the price of the losing the 2016 election to the albatross who still wants to hang around our necks (who gave us two more conservative Justices).
Here's a post about Alito's Roe v. Wade comments during his confirmation hearing. And People for the American Way's 155-page report on his Judicial Philosophy written at the time of his confirmation hearings.
This is an open thread, all topics welcome.