Midterm Elections: Can Dems Win House or Keep Senate?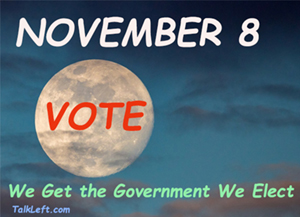 >p>
Update 10:24 pm:
Congrats to Colorado Governor Jared Polis who won a second term easily tonight. I'm glad to see that Sen. Michael Bennet also won re-election, and of course, our indefatigable Congresswoman Diana DeGette.
Florida gets its first Gen Z Democrat. 25 year-old Maxwell Alejandro Frost, won Val Demings's Orlando house seat. He describes himself as a young, Black Latino who is focused on "gun violence, climate change, abortion rights and Medicare for all." Democrat Demings, unfortunately, lost her bid to take over Marco Rubio's Senate Seat.
*****Original Post*****
There was a total lunar eclipse last night and early this morning. Did you miss it? Here's a handy little webpage that tells when it was visible in major cities.
It seems like there is a consensus in the media that the Republicans will take the House. The difference is in the number of seats they win. There are presently 222 Democrats and 213 Republicans in the House. Some predict a 15 seat gain for Republicans. I think it will be less.
The Senate could be a toss-up. Right now it is 50/50. Even one seat lost is a disaster for Dems. Biden will have lame-duck status for the next two years. [More...]