Matt Gaetz Keeps Talking as More Chips Fall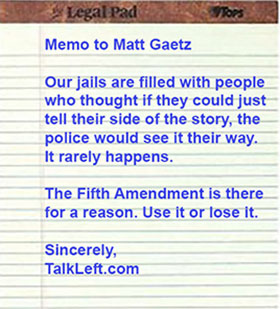 Matt Gaetz was a lawyer before he ran for Congress. I have no idea why he believes he can talk his way to innocence in a pending criminal investigation involving alleged sex trafficking of a minor, but it seems he's intent on trying.
Here's a summary of the events to date in the Gaetz investigation by Florida Politics.
When the New York Times first broke the story, Gaetz responded with a denial on Twitter claiming he and his father, former Florida state senator Don Gaetz, were victims of a $25 million extortion plot by a former DOJ official who wanted the money to free a former FBI agent taken hostage in Iran. (The FBI said months ago it thinks the hostage is dead). According to Gaetz, the former DOJ official offered to use his influence to help Gaetz in the pending sex trafficking investigation in exchange for the money. Gaetz claimed, and the FBI doesn't dispute, that Don Gaetz wore a wire at its request to get the former DOJ official to admit the plot on tape. Apparently the former DOJ official didn't bite. [More...]