Donald Trump Goes on Trial in Senate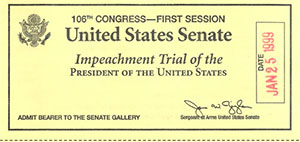 It's hard to believe it was 22 years ago that I attended the impeachment trial of former President Bill Clinton. Today it is private citizen Donald Trump who is on trial in the U.S. Senate for his conduct on January 6,2021 when rioters stormed the U.S. capitol. C-Span is covering it live.
They are now arguing over whether the Senate has the power to impeach someone who no longer occupies a desk in the oval office. Four hours has been alloted for these arguments. From the New York Times:
In a fast-paced and cinematic case, the House managers will argue before the Senate that Mr. Trump is guilty of inciting a deadly mob of his supporters to storm the Capitol on Jan. 6.

The prosecution plans to show videos captured by the mob, Mr. Trump's unvarnished words and criminal pleas from rioters who said they acted at the former president's behest. House managers are aiming for a conviction and to bar Mr. Trump from holding office again.
Democrats plan to both conduct the trial and work on passing federal coronavirus relief. The trial should be over this week.
Here is the Reply Brief filed today by the House Managers who are prosecuting the trial against Trump. Here are the procedural rules for the Clinton impeachment trial.