The Prince and the Pauper: Separated at Birth?
For those of you following the most excellent adventures of Gamestop and Robinhood, does anyone else think these two look like they were separated at birth?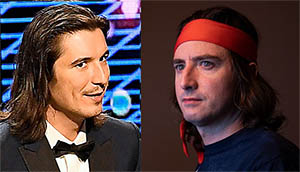 On the left: Vlad Tenev, CEO and Co-founder of Robinhood. On the right: Keith Gill, the self-described "normal guy" who reportedly drove the GameStop stock frenzy by posting on a Reddit forum called WallStreetBets.
Take away the tuxedo and the gypsy headband, making one look rich and the other look like a marginalized protester of something or other, I think these two look like they were separated at birth. The eye shape, the bump on the bridge of the nose, the thin upper lip and fuller bottom lip, the mustache and random spots of growth despite looking recently shaven, the chin, and the bob in the Adam's apple. Gill's eyebrows are a little fuller, but the arch is pretty much the same. Hair color, check. Hair length: check. [More...]