Scientists: 3 Billion Expected to Get Omicron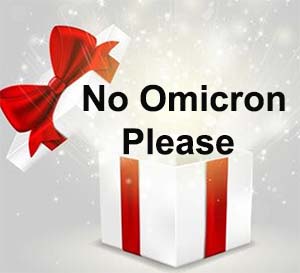 At the global level, we expect 3 billion or more omicron infections in the next two to three months, which will translate into a tripling of global reported cases. Because the infection-detection rate is going to be lower, that will translate into a global surge in hospitalizations, but fortunately smaller than the previous delta surge and previous winter surge in the Northern hemisphere. And even smaller will be the global impact in terms of mortality, but global deaths will go up somewhat in the next few months.
Omicron is in all 50 states. Cases could reach one million a day before the end of the year. Hospitals are breaking records. You can't find a testing kit on the shelves of retail stores. Apparently, Americans don't care.
Nearly 2 million people passed through TSA checkpoints on Tuesday, roughly the same number on the same day in 2019, according to the agency's daily count.
What can you do? Get boosted, wear an N95 (or at least a K95) mask. Stay home. Make sure any guests have been tested.
This is an open thread, all topics welcome.