Bill Clinton On the Mend, Heads Home to NY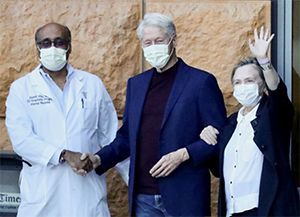 Former President Bill Clinton has left the hospital in Irvine, CA for his home in New York. A urinary infection led to sepsis shock, but he's been treated and his blood levels have returned to normal. He can continue his treatment at home.
This Reuters article seems more like an obituary than a news article to me the way it sterilely recounts his past achievements. I'm sure every media organization has had his obituary written for ages -- I wish Bill Clinton many more years of health and meaningful activity before that day comes.