Trump Tries to "Fix" Vote Results in Georgia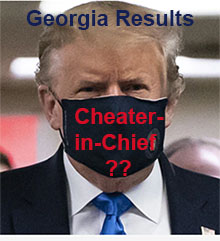 The Washington Post has the astonishing transcript of Donald Trump's call to Brad Raffensperger, the Republican in charge of the elections in Georgia., telling him the state's vote was rigged and insisting he won Georgia. He presses Raffensperger to meet with his staff and take their numbers into account. From the Post's description of the call (but you should really read the transcript for the full flavor):
The Washington Post obtained a recording of the conversation in which Trump alternately berated Raffensperger, tried to flatter him, begged him to act and threatened him with vague criminal consequences if the secretary of state refused to pursue his false claims, at one point warning that Raffensperger was taking "a big risk."

Throughout the call, Raffensperger and his office's general counsel rejected Trump's assertions, explaining that the president is relying on debunked conspiracy theories and that President-elect Joe Biden's 11,779-vote victory in Georgia was fair and accurate.
Trump did manage to fit in one statement I agree with. In fact, he repeated it twice. He called himself a "schmuck".
So it appears Donald Trump, Carnival Barker-in-Chief - is now attempting to be the Fixer in Chief. He has no limits when it comes to pulling the wool over America's eyes.