Merry Christmas and Open Thread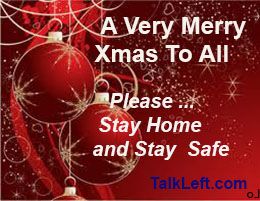 Merry Christmas, Everyone.
It really doesn't feel like Christmas to me, but for those of you who have found something to celebrate today (including your religion), enjoy! - and please tell us about any great meals or adventures you had. For those of you staying home (like me) and watching a lot of TV, I hope you'll share any great series or movies you've seen.
It's been interesting following the varied approaches states are taking to who gets the vaccine second. Everyone is doing first responders and nursing homes first, but after that, there seems to be a split. Some states are going with the elderly being second because that will save the most lives (since their lives are most at risk). Other states are going with workers who deal with the public in non-medical fields next, saying they are most likely to catch the virus. Where do you weigh in?
This is an open thread, all topics welcome.