Guiliani Time: A Roast, a Strikeout or Just Toast?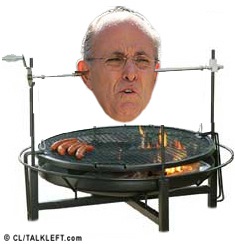 The Parnas documents disclosed by the House y are pretty devastating to Rudy Giuliani and by implication, to Donald Trump. They are available here.
The worst may be that it appears from released text messages between Parnas and Robert Hyde that the former Ukranian ambassador Yovanovitch, who was fired by Trump, was being physically tracked. No wonder she testified she felt she was in danger. The Ukranian Government has initiated a criminal investigation to look into this.
But wait, like any good infomercial, There's More! Lev Parnas has completely broken with Trump and Rudy, says Trump was aware of the plan to get the Ukraine government to investigate Joe and Hunter Biden, and that he's now eager to cooperate fully with the Government. [More...]