Rudy on the Prowl: Women First, Joe Biden Next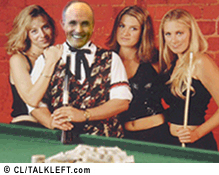 While third wife Judith insists Ruy is a "cheating liar" due to his relationship with Maria Ryan, which Rudy denies existed or occurred after their separation, Rudy is not deterred. In fact, Maria Ryan is so last week.
This week Rudy is pursuing yet another romance, with Jennifer LeBlanc, a Louisiana Republican fundraiser and former financial chair of Rudy's 2008 campaign. She is a widow, her husband died in a plane crash. At the time of her death, she and her husband were under criminal investigation. Neither were charged.
LeBlanc was the Louisiana finance chair for Giuliani's 2008 presidential campaign. She is a partner at LeBlanc & Associates, where she and her partner provide fundraising and consulting advice to clients in the state as well as to some prominent Louisiana officeholders in D.C.

...LeBlanc inherited substantial business assets after the death of her husband, Pat LeBlanc, a Lafayette, Louisiana businessman. He died in a plane crash at 53 while under investigation for an alleged bribery scandal for a Leblanc company that provided concessions services to Texas prisons. They proclaimed their innocence and were never charged. (my emphasis)
Rudy, who I would bet hasn't seen the inside of a state court in decades, last month entered his appearance in an auto insurance fraud case in Ft. Lauderdale where the defendant is Maria Ryan's daughter, who he said is his personal assistant.[More...]