Memorial Day (Evening) Open Thread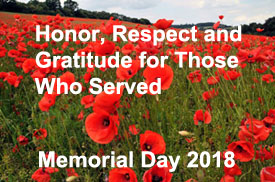 Subtropical storm Alberto made landfall this afternoon in Laguna Beach, Florida near Panama City. It's moving north, up through the Florida Panhandle. I hope everyone stays safe. Two TV news persons died when a tree fell on their car.
On Donald Trump and Memorial Day, from David Frum in the NY Times:
It's not news that there is something missing from Trump where normal human feelings should go. His devouring need for admiration from others is joined to an extreme, even pathological, inability to return any care or concern for those others. But Trump's version of this disconnect comes most especially to the fore at times of national ritual. Donald Trump cares enormously about national symbols—the flag, the anthem—when he can use them to belittle, humiliate, and exclude.
[More...]