Rudy Strikes Out with Law Firm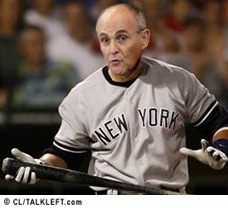 Rudy Giuliani and his law firm have parted ways. Rudy says it is because he needs to devote all his time to Donald Trump and the Russia investigation.
His law firm, Greenberg Taurig (once home to Jack Abramoff) adds another reason. It disagrees that using law firm funds to pay off an adult entertainment star who claims to have had an affair with a client is routine procedure, when the client has not approved it. (Trump has publicly said he didn't know of the payment beforehand.) Not only isn't it routine, the firm announced in a statement, it isn't acceptable.
"Speaking for ourselves, we would not condone payments of the nature alleged to have been made or otherwise without the knowledge and direction of a client."
What does "or otherwise" mean in this context?
The only person striking out more than Rudy this month is Michael Cohen.