Trump Refusing to Sign Shutdown Bill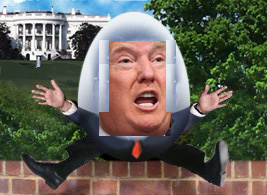 Donald Trump wants his wall. He's refusing to sign the bill to avoid a government shutdown without funding for his wall.
Donald Trump is the antithesis of what this country needs in leadership.
Humpty Dumpty sat on a wall,
Humpty Dumpty had a great fall;
All the king's horses and all the king's men
Couldn't put Humpty together again.
Hopefully, Trump's fall will come soon.