Trump Blasted for Delayed Response to Aid for Puerto Rico
Donald Trump announced today he will visit Puerto Rico next week. As he always does, he exaggerated the U.S. response to date and said, "We're doing a great job."
A "great job"? That is as wrong and as tone-deaf as George Bush saying in 2005 to FEMA Chief Michael Brown, ""Brownie, you're doing a heckuva job". Puerto Rico may well become Donald Trump's Katrina.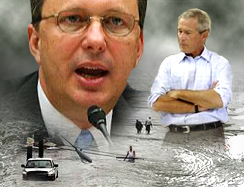 The reality is the U.S. response has been slow and inadequate to address the growing humanitarian crisis on the island. [More...]