Trump Revises Travel Ban, Sup. Ct Cancels Arguments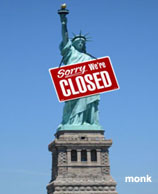 The Supreme Court has canceled oral arguments set for October 10 on Donald Trump's initial travel ban.
In an order issued Monday, the justices asked for new briefs about whether the third rendition of the travel ban means there is nothing left for the court to decide. The briefs are due Oct. 5 and the court said for now it is removing from its oral argument calendar a hearing scheduled for Oct. 10.
The New York Times says:
By canceling the arguments for now, the court signaled that it may never decide the case. "The cases are removed from the oral argument calendar, pending further order of the court," the court said.
Yesterday, Donald Trump issued an executive proclamation revising and expanding his travel ban. You can read it here. [More...]