DHS to "Waive Laws" for Border Wall at San Diego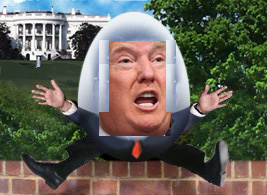 The Department of Homeland Security issued a press release today stating it is "waiving" the law to start building sections of Donald Trump's "border wall" in San Diego.
The Department of Homeland Security has issued a waiver to waive certain laws, regulations and other legal requirements to ensure the expeditious construction of barriers and roads in the vicinity of the international border near San Diego. The waiver will be published in the Federal Register in the coming days.

... The [San Diego]sector remains an area of high illegal entry for which there is an immediate need to improve current infrastructure and construct additional border barriers and roads. To begin to meet the need for additional border infrastructure in this area, DHS will implement various border infrastructure projects. These projects will focus on an approximately 15-mile segment of the border within the San Diego Sector that starts at the Pacific Ocean and extends eastward, to approximately one mile east of what is known as Border Monument 251.
[More...]