As the Worms Squirm: People Mag. Turns on Trump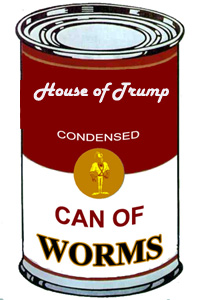 [Note: Turn off your computer speakers before reading further, there's auto-play video on the links below-- no avoiding them.)
Is the media turning on Donald Trump and his family ? Check out the new issue of People Magazine. The cover is a photo of Donald Trump, Ivanka, Donald Jr. and Jared. (No Eric or Tiffany or Melania.) The Cover reads, "The Trump Family Secrets and Lies." It adds:
Donald Trump taught his children to fight dirty and win, no matter the cost. How the ruthless family culture has shaped Don Jr., his siblings, and the Presidency
The headline to one article on Donald, Jr., reads, "'Stay Away from Donnie Trump': Inside Don Jr.'s Drinking, Womanizing and Frat Guy Antics'". It cites and links to a 2004 New York Magazine article in which the author interviewed Trump, Jr. and his college classmates.
[More...]