Schapelle Corby Goes Home to Australia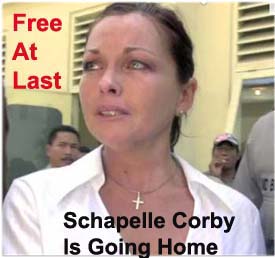 12 years after a court in Bali found her guilty of importing 4 kilos of pot into Indonesia, a charge she has always denied, Schapelle Corby is going home.
On October 8, 2004, Schapelle Corby, traveled with her half-brother and two friends from Brisbane, Australia to Bali. They were going on a holiday, to visit their sister Mercedes, who lived in Bali and was turning 30. She checked her boogie board as oversized luggage at the airport in Brisbane. It was not weighed. The flight stopped in Sydney, and then went on to Bali. Going through customs, the bag seemed heavy and police opened it. There was 4.1 kilos of pot inside. Schapelle acknowledged the boogie board and bag were hers. She denied knowing there was pot in it, and had no idea how it got there.
[More...]